Subscribe
3 Reasons Why Your Hospital Needs a Network Site Survey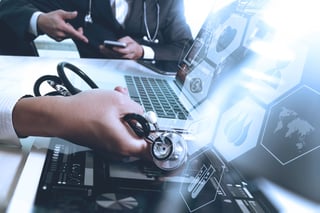 Hospitals present networking professionals with a wide range of unique challenges, which is why comprehensive site surveys are so essential in the healthcare space.
According to a study published in Healthcare Informatics Research, roughly 40% of all Internet of Things (IoT) devices will be related in some way to healthcare by 2020. As more and more of the devices that have come to define treatment for so many come online, hospital administrators must make a concerted effort to ensure that their networks can provide high-performing and secure connectivity for these devices. That's often easier said than done — nearly 90% of healthcare organizations suffered a cybersecurity breach between 2015 and 2016.
Part of the problem is that hospital environments are inherently more complex than standard enterprise environments. "The physical limitations of the hospital include so many different things," explains Medigram VP of Technology Dean Shold. "Upgrading a wireless environment is always difficult and it's always risky, especially in an environment like a hospital where you can't support downtime."
For hospitals looking to fine-tune their networking infrastructures, there's perhaps no more essential step than a site survey. Optimizing your network naturally requires knowledge of how it works — if you don't know what's running on your network or how your network has been deployed, there's no way for you to be sure that it's strong and secure. Here's how a site survey can put you on the path toward better, safer connections in your workplace.
Pinpointing RFI
Many hospital buildings were not designed with wireless communications in mind, and are therefore rife with the kind of radio-frequency interference (RFI) that can severely compromise connectivity. Whether it's lead walls around a radiation center, proximity to other wireless networks, or a labyrinthine floor plan, hospitals present countless — and often unique — sources of RFI. And unlike in an enterprise setting, dead zones in and around elevators, stairwells, and basements are unacceptable in a hospital setting, as doctors and nurses must be accessible at all times.
In addition to their complex, signal-blocking architectural features, hospitals feature pockets of incredibly high-density network demand, a problem not nearly as common to more balanced enterprise environments. It's not unusual for a midsized hospital room to have 15 or 20 connected medical devices in addition to patients' and visitors' personal phones, laptops, and tablets, and a hospital network must be carefully calibrated in order to successfully support this volume (and density) of devices.
Right-Sizing Access Point Deployment
A site survey not only helps hospital IT teams get an idea of what kind of RFI they're working with, but helps them determine the optimal number and placement of network access points (APs) as well. Hospital administrators often assume that the higher their RFI, the more APs they need, but this isn't always the case.
"I've heard [of] many organizations trying to solve their problems by putting more access points everywhere. Access points in every room, access points everywhere," Shold says. "Unfortunately...if you throw in too many access points you actually have a greater chance of a problem with devices disassociating and reassociating with another access point." As such, Shold points out, when it comes to placing APs in a hospital environment, "more is not always better. Better is better."
Facilitating HIPAA Compliance
Hospital IT teams need to be able to implement precise network access controls, maintain detailed logs of which devices are provided with which resources at which times, and ensure that any and all transmissions of protected health information (PHI) are adequately encrypted. None of this is possible without a panoramic view of a network infrastructure, a breadth of perspective that can only be achieved through a site survey.
Choosing the Right Partner
Ultimately, as important as these — and many other — considerations are, few hospital IT teams have developed the know-how necessary to execute their own site survey. That's why, according to Shold, "The more [a hospital] can work with a vendor earlier on, the better."
At Turn-key Technologies, we bring over two decades of experience conducting in-depth site surveys in all sorts of environments. What's more, thanks to our extensive healthcare-specific expertise, we understand the unique challenges presented by hospital environments, and are well-equipped to help any care facility build a network that's as high-performing as it is secure.