Subscribe
Russian LoRaWAN Initiative Suggests IoT Is Advancing More Quickly Than Anticipated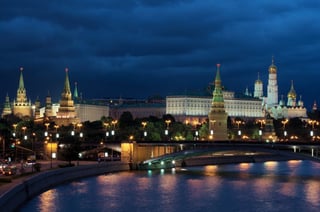 As IoT devices continue to proliferate, countries like Russia are taking steps to create networks capable of supporting these devices' unique demands.
Often overlooked in discussions of trailblazing "smart cities," Moscow has undertaken a variety of projects leveraging everything from big data and machine learning to augmented and virtual reality to make itself more digital-friendly. One of the most interesting (and potentially lucrative) projects involves the deployment of a gigantic, city-wide wireless network capable of providing connectivity for a wide range of Internet of Things (IoT) devices.
While it's being driven by high-powered stakeholders in Moscow, this Russian commitment to IoT development spans much of the enormous nation. According to one study, the IoT market in Russia is set to expand at a compound annual growth rate of 19.62% between now and 2023, at which point it will be valued at nearly $74 billion.
"Russian enterprises are currently in a stage of digital transformation that will considerably improve the efficiency of business," explains Andrey Kuzyaev, president of Russia's second-largest telecom operator, ER Telecom Holding. "The Internet of Things is the foundation for the development of a digital economy [with] unlimited growth potential."
In order to catalyze this transformation, Enforta — one of ER Telecom's subsidiaries — has partnered with French IoT platform provider Actility to create a low-power, long-range wide area network (LoRaWAN) that will support IoT device deployment across the country.
A Network Built for IoT
First released in June 2015, the LoRaWAN protocol was designed with the IoT in mind. It relies on a "star" network architecture in which numerous nodes — often IoT devices — connect directly to a central node. These central nodes then connect to a backend server via standard IP gateways. A LoRaWAN server regulates the information flow to and from each point on the network via an Adaptive Data Rate (ADR) algorithm, resulting in fine-grained network capacity management and easy and reliable network scaling.
Other networking protocols like Bluetooth, WiFi, and cellular are capable of far higher data transmission rates, but the value of a LoRaWAN infrastructure is its efficient power consumption and extensive connectivity range. Generally speaking, a LoRaWAN will offer a range of over nine miles while consuming low enough amounts of power to ensure a 10-year battery life.
Staying Connected in Siberia
These value propositions have proven to be tremendously attractive to both state authorities and large corporations operating in rugged and inaccessible regions of Russia.
LoRaWAN technology is particularly useful in the oil and gas industry (which accounts for around 70% of Russia's export revenues), as it enables companies to create a network of IoT rig and pipeline monitors in areas where connectivity is otherwise unreliable and/or prohibitively expensive. Similarly, Russian mining companies have already started using LoRaWAN to support IoT devices that track worker safety during blasting operations and facilitate preventative maintenance on heavy machinery.
As of October, Enforta and Actility were planning to expand their LoRaWAN offerings to over 60 cities, paving the way for smart cities and worksites throughout the country.
An Optimistic Outlook for LoRaWAN in the U.S.
In the United States, interest in LoRaWAN finally looks to be gathering steam. In June 2016, self-described "Leader of the IoT Connectivity Revolution" Senet introduced LoRaWAN coverage in 100 American cities. But as principal analyst at Ovum for Intelligent Networks Daryl Schoolar points out, "One of the key success factors in these early days of...IoT networks is achieving the scale to attract both the attention of enterprise users and the application developers who want to reach those enterprises."
The prospect of achieving adequate scale crept ever-closer in June, when Comcast announced plans to expand its LoRaWAN service to twelve major U.S. markets beyond its three pilot cities. As more telecom companies follow Senet's and Comcast's lead, reliable — and affordable — IoT deployments will become more and more of a reality. In fact, according to a study by Machina Research, by 2025, more than one in every ten connections will be made over a low-power, long-range wide area network.
In order to prepare for this proliferation of connected devices — and this new frontier of wireless networking — organizations in every industry must make sure that their current digital infrastructure is fully optimized. Whether they're in healthcare or energy, education or entertainment, IT teams would be wise to partner with a networking expert like Turn-key Technologies to ensure that they are adequately prepared for the future, come what may.