Professionals in a wide variety of fields often find themselves alone in hazardous work conditions. Are you doing all that you can to keep your lone workers safe?
Workers in a wide variety of fields are asking their employers to bolster workplace safety measures, and with good reason.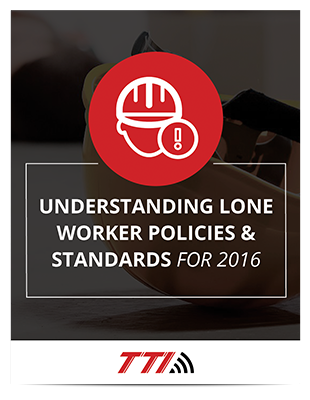 Find out more about what you NEED to be doing to create safest possible environment for all of your lone worker employees.
Subscribe and download your free guide now!
OSHA has less to say about protecting lone workers than you might expect. However, the agency has a longstanding, well-established set of policies that dictate that employers should take reasonable precautions for safeguarding all workers. Most employers do so out of human decency, anyway, not because there is a law or rule somewhere stating that they have to. What are the best strategies for making sure that lone workers are protected on the job?
A sizeable percentage of workers in today's society spend all or a lot of their time alone. Sales people, service professionals, security guards, medical personnel, clerks, and numerous other workers are often by themselves, in unfamiliar areas, around people they don't know, and potentially in the dark. When fall and winter set in, dark can come as early as 4PM. This means that a typical worker with an 8 to 5 job is leaving well past dark, and workers on second and third shifts might come to work and leave again, all in the dark. How can employers help keep workers safe when they're out in the dark?
Lone workers are at a greater risk than those who are continually around others. These workers can become ill, injured, or worse, and might be stranded helpless for hours before they are missed or discovered. Companies need to have plans in place to monitor these workers and to empower them to get assistance if needed. Solutions like duress alarms are ideal for helping to keep lone workers safe and secure. Here are three different types of lone workers you need to identify in your company and put protective measures in place for.
Nurses have tough jobs. They step in when most everyone else runs out. Nurses handle nasty things, frightened and irritable family members, demanding doctors, brutal schedules, and people who are sick or injured and aren't in the best of moods or conditions. Additionally, nurses are also often exposed to violence. Some hospitals have implemented policies for nurses to carry ordinary mobile devices, like smartphones or tablets, but these devices come with problems, as you'll soon see. The ideal solution is lone working devices like Guardian security alarms that nurses can use anywhere, anytime, in virtually any situation.