Subscribe
How to Maximize Your E-Rate Funding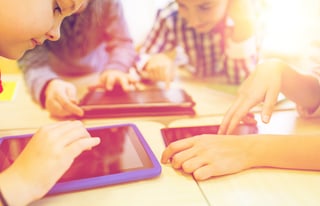 E-rate regulations have changed to make the Category Two E-rate budget system a permanent fixture of the E-rate program.
For nearly 20 years, the Federal Communications Commission has supported technological advancements in schools and libraries with E-rate funding. Last month, the FCC made changes to the E-rate program in an effort to modernize how it provides support to institutions in need.
On December 3, 2019, the FCC released new regulations that make the Category Two E-rate budget system a permanent fixture of the E-rate program. Most of the rules that follow this change will be put into effect for the 2021 funding year. Still, there are a few regulations that take effect as early as next year, which means school district leaders must be prepared to take action in order to secure specialized funding.
What Is E-Rate Funding?
The Schools and Libraries Program — often referred to as E-rate — is a Universal Service Fund program that was created to help public schools and libraries obtain access to affordable and high-speed internet access and telecommunication services. The program identifies which network assets are eligible for special funding and then determines what your school's discount levels are based on the percentage of students that qualify for reduced-price school lunches in your district.
There are two types of E-rate funding groups: Category One and Category Two. Category One services are reserved for institutions that need basic access to the internet. This includes funding for broadband circuits like fiber wire construction. Category Two, on the other hand, is for funding the network infrastructure within a building. This means the funding is reserved for purchasing new routers, switches, wireless access points, and controllers — essentially any onsite hardware that supports better connectivity for a strong network.
Category Two E-rate funding is particularly effective for districts that are working to implement new edtech initiatives in their classrooms. For example, 1:1 device initiatives are gaining popularity across school districts — and these ambitious programs require a solid network backbone to support new BYOD policies. Consider the Octorara Area School District, which achieved its 1:1 device goal and upgraded to Wi-Fi 6 with the aid of E-rate funding (and a reliable IT partner).
Category Two E-Rate Funding History
Before 2015, Category Two E-rate funding was hard to secure — only 14 percent of school districts nationwide received Category Two funding. Under the previous approach, districts were only eligible to apply for Category Two funding for two out of every five years. To make things easier for school districts, the program underwent a trial period from 2015 to 2019 during which changes were made to simplify the application process for K-12 institutions to procure funding for up to $150 per student. As a result of these administrative changes, the number of schools able to secure E-rate funding jumped from 14 percent to 83 percent nationwide.
After seeing this positive impact, the FCC has decided to make Category Two a permanent fixture of the E-rate program. What does this mean? Well, we can expect the new changes will build on the success of the initial trial period. This means E-rate funding will be more streamlined and budgets can be more effectively allocated to the districts that need it most.
Understanding E-Rate Changes
In order to reap the benefits of these new changes, it's important to take a look at some of the specific regulatory changes (a full list can be found here). A critical highlight is that in 2020, Category Two budgets will be increased by a whopping 20 percent. With no carryover policy in place, it's important that your district spends its entire budget by the end of the 2020 Funding Year or otherwise lose out.
What's more, effective in 2021, the FCC will reset all applicant Category Two budgets and begin a new fixed budget cycle which ends in 2025. During this time period, the budget floor will increase from $9,500 to $25,000. Districts also no longer need to notify the USAC when transferring new and legacy equipment.
TTI's Support
School districts must act soon in order to avoid missing out on federal dollars designated to future-proof America's public schools for the digital age. In order to qualify for funding, administrators must file Form 470 by February 26. After successfully filing Form 470, districts have 28 days to select a winning vendor.
Securing E-rate funding is an arduous process, which is why it is incredibly valuable to align with an industry-trusted partner that has the experience needed to navigate the complex system. And that's what you get when you work with Turn-key Technologies, Inc. (TTI).
With nearly thirty years of IT experience and a long list of education partnerships, our experts are capable of helping your district secure E-rate funding and put it to good use. We'll work to help your leaders leverage these funds on a realistic timeline to help ensure top-notch education in your district.