{% if (subscriberProperty != "yes") && (subscribeUrl != "") %}
Subscribe
{% endif %}
Experts Worry About Cost of Upgrading to 5G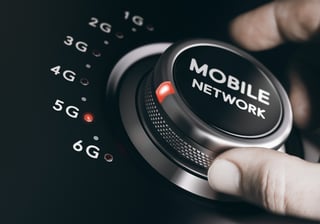 Telecom and tech companies are bullish on 5G, but until the cost of implementation begins to drop, making a business case for the next generation of mobile networking is going to be difficult.
According to growth consulting firm Frost & Sullivan, there will be more than five billion global internet users by 2020, each of whom will have as many as five connected devices. That remarkably rapid growth will pose a challenge to existing networks, which must not only support more connections than ever before, but connections that will be more demanding and intensive than what was previously possible.
"Experiences such as virtual reality, self-driving cars, robotics, smart cities, and more are about to test networks like never before. These technologies will be immersive, pervasive, and responsive to customers," explains AT&T Chief Strategy Officer John Donovan. Like many stakeholders in the mobile arena, Donovan believes that a new networking standard will be the industry's saving grace, confidently declaring, "5G will help make [these technologies] a reality."
From Verizon to Qualcomm to Intel, a number of major players in the telecom and broader tech world are investing heavily in 5G, hoping to lay the groundwork for the networking paradigm of the future. Members of the Trump administration have different ideas, proposing a nationalized 5G infrastructure for the purposes of protecting sensitive data from foreign actors like China. But while the performance upgrades promised by 5G are enticing, high implementation costs are making it tough for both businesses and Federal agencies to build a business case for 5G networking infrastructure.
The Promise of 5G
Uncertainty surrounding the ultimate form that 5G will take makes it difficult to assess the technology's value from a commercial perspective. A consensus 5G standard isn't expected until next year at the earliest, and the timeline for widespread commercial 5G availability runs well into next decade.
That being said, there are several performance benchmarks that any future 5G standard will be expected to meet. First, 5G will enable wireless carriers to deliver mobile internet speeds of over 10 gigabits per second, around 100 times faster than current 4G LTE networks. Second, 5G will reduce end-to-end latency from between 50 and 80 milliseconds to a single millisecond. Finally, the new networks will likely offer up to 1,000 times more bandwidth per unit area and/or the ability to support between 10 to 100 times more connected devices (there is typically a trade-off between these two capabilities).
Experts are guessing that a handful of other capabilities may also become available — most notably, near 100% availability and coverage and a 90% reduction in network energy usage. Still, it's far from certain whether these features will be included in a consensus 5G standard.
Massive Infrastructural Upgrades
These performance upgrades will open the door to remarkable things — with 5G throughputs, a user would be able to download an entire HD movie on their phone in a matter of seconds — but they will require a great deal of infrastructural investment before they become a reality.
Current plans for 5G not only propose virtualizing elements of RANs, but the creation of a single network architecture that supports a wide range of both fixed and mobile services without the need for a unification mechanism. As The New York Times points out, making these kinds of infrastructural upgrades isn't going to be cheap: "Carriers and telecom equipment makers will have to install new hardware like cell phone towers in rural areas and tiny mobile hotspots in dense urban areas to reach the 10 gigabits per second target."
Don't Get Caught Up in the Hype
Regardless of when it actually makes it to market, the truth of the matter is that 5G will never replace WiFi — at least not in a corporate setting — nor is it intended to. The top-end capabilities of 5G will become essential in certain use cases, but for day-to-day corporate operations, WiFi will continue to support everyday enterprise operations.
As such, despite the growing 5G hype, it's imperative for enterprise IT teams to stay focused on the here and now. At Turn-key Technologies, we understand that a healthy network is a vital part of any modern business, and we have over two decades of experience helping companies of all sizes design, build, and manage networks that are as high-performing as they are secure. We have the expertise necessary to help any company deliver secure, uninterrupted service to each and every user within the enterprise's network.