Cybersecurity | Network Security
Although you may have heard this all before, hackers are more innovative now, than ever. It's time for a refresher. As you are well aware, your company has a lot of information and communication flowing from person to person, within and outside the organization. This flow keeps your company running, and it's an integral part of the relationship between your business and your clients. So what would happen if that exchange was suddenly severed, or if the sensitive data being transmitted was compromised in some way? Today, these security risks are all too real -- and they could cost your organization significantly. Unfortunately, the problem may be caused by your own employees.
Any IT department manager understands the critical need to safeguard the company's network. If this is you, you probably expend a lot of time and effort optimizing network security. You take extreme care to ensure that maintaining a secure network is a top priority. Unfortunately, network security is affected by more hands than just those in the IT department, and there are often vulnerabilities caused by uninformed employees throughout the organization. How's an IT pro supposed to keep the network protected when users at all levels of the business are getting in the way?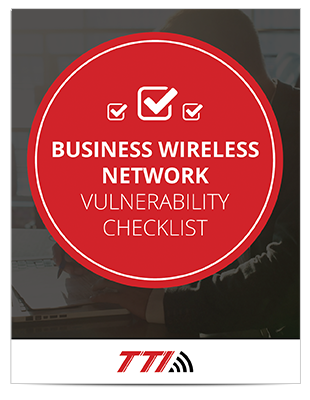 Does your company have a secure enough network to protect your digital assets?
We're sharing our advice with our loyal readers. Subscribe and download your free vulnerability checklist now!
There's no doubt the Internet brings progress and productivity to your organization. In today's business world, technology and connectivity are integral to success. But with the "good" comes the "bad," and that means network security attacks that have the potential to cripple your company. Some of the most recent and hard-hitting security attacks have been dominating news headlines and warning businesses of the serious dangers out there. What can your organization learn from them?
When you consider what's involved in a network assessment, you're likely to categorize the entire effort as a technical check-up. It's true that a major component of a network assessment is examining the technical aspects. This involves a complete evaluation of cabling, firewalls, access points, switches, routers, VPNs, firmware, hardware, traffic, workstations, security vulnerabilities, devices, sources of interference and so on. But as important as this technical side is, it's not the only consideration in a network assessment. There's a vital business element that you must address in order to ensure a top-performing network.
The ways in which your company's network can fail you may seem endless. IT professionals are tasked with ensuring seamless connectivity and performance, but there are a number of ways in which that goal can be hampered. The outcome? Spotty coverage, slow speed, security hazards … the list goes on. So, how do organizations go about sustaining a top-performing network? One crucial aspect is the network inventory.
As the education landscape evolves, Internet access becomes more and more integral to each school's curricula. Unfortunately, funding this need can be difficult for some in the K-12 school districts. That's why E-rate is so valuable. This government-funded discount program enables schools and libraries to secure affordable Internet access and telecommunications services. Are you up to speed on how your school can take advantage of the program this year?