{% if (subscriberProperty != "yes") && (subscribeUrl != "") %}
Subscribe
{% endif %}
Blazing Fast Networks Will Power the Next Wave of Ecommerce Solutions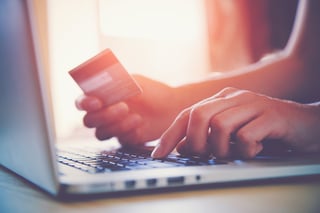 The ecommerce and omnichannel retail sectors should brace for the next great disruption: next-generation networks to support rapid innovation.
Between 2018 and 2020, global ecommerce sales are expected to nearly double — and it's no surprise, given that more than 95% of all Americans shop online. In stride with the ecommerce revolution, however, has come a reimagining of traditional brick-and-mortar retail, as well. Increasingly, traditional retailers are optimizing their operational strategies in favor of multi-channel or omnichannel solutions.
A multi-channel model involves selling across multiple channels (both digital and physical), but it siloes these channels as separate components of the business. Omnichannel retail, on the other hand, connects every touchpoint in the consumer journey to create a unified experience across channels — enabling customers to move seamlessly from online browsing and mobile ordering to physical pickup or delivery, for instance.
While traditional brick-and-mortar retailers like Walmart are moving into e- and m-commerce, direct-to-consumer (DTC) and online-only sellers are dipping their toes into brick and mortar. Amazon, which boasts more than 300 million users worldwide, is opening book stores and acquiring physical retailers like Whole Foods to deliver groceries to customers' doorsteps. DTC companies like Everlane and Warby Parker are launching showrooms and selected retail locations to support and augment their larger online channels. This rapidly-evolving retail landscape carries significant implications for the intersections of technology and commerce.
The Tech Behind Retail's Transformation
As the retail industry continues to transform day by day, technology must rise to the challenge. Digital point-of-sale (POS) systems are advancing, and both ecommerce and omnichannel retail are evolving with the help of social ecommerce, single-click checkouts, artificial intelligence (AI), Bluetooth-enabled beacons, and more.
Next-generation cloud services are allowing retailers to check stock availability in near real-time; advanced business analytics powered by machine learning are synthesizing huge volumes of data to predict behavioral trends and consumer preferences; voice-enabled search via consumer Internet of Things (IoT) devices is being integrated into the shopping experience; and facial recognition software is being used to prevent theft and improve profitability.
At the same time, competitive pressure to accelerate time to market, along with growing expectations for efficiency, accuracy, and immediacy — have upped the pace of technological innovation in the retail sector to never-before-seen levels.
But meeting these high market demands with advanced digital solutions requires networks as reliable as they are cutting-edge. Of all the existing technologies propelling retail toward online and omnichannel models, high-speed enterprise networks are without doubt the most important. The major corporations that dominate today's retail marketplaces — Amazon, Walmart, Alibaba, and so many others — have succeeded in large part because they have been able to support continuous innovation on the foundation of powerful networking solutions.
Preparing for the Future of Retail
In the coming years, experts anticipate the tech adoption curve in the retail sector to get steeper, propelled by the widespread implementation of WiFi 6, virtual personal assistants, blockchain-based commerce, and an ever-growing IoT.
As the consumer experience becomes more connected, more automated, and more data-reliant than ever, retailers must evolve or risk being overtaken by the competition. Take Toys "R" Us for example, whose inability to adapt to a changing retail landscape forced it into bankruptcy. The impending downfall of Sears, too, has been hastened by a failure to keep pace with digital innovation. And costly data breaches haven't helped.
As such, it's critical that modern retailers invest in the sophisticated network solutions they'll need to optimize their operations and streamline the consumer journey.
Partnering Up for Long-Term Success
At Turn-key Technologies, we have over three decades of experience auditing enterprise networks, conducting comprehensive network cleanups, optimizing wired infrastructure, managing and securing major databases, and more.
Armed with cutting-edge analytics tools and award-winning expertise, our network technicians are prepared to put in the hard work that will help position your company as a top player in the competitive world of ecommerce and omnichannel retail. We understand the vital role that strong networks play in organizational success, and are committed to enabling the digital innovation needed to propel your company into the future.