Subscribe
What to Consider When Deploying a Multi-Cloud Network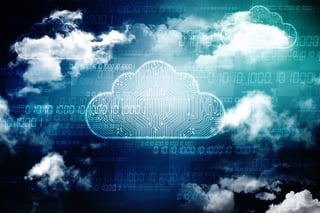 More and more enterprises are turning to multi-cloud solutions — here's how to implement one.
The term "multi-cloud" refers to the use of two or more public clouds by a single enterprise, and the structure is most popularly used as a way to bolster reliability and prevent data loss, as the enterprise can fall back on one cloud solution if something goes wrong with another. Multi-cloud architectures are gaining in popularity as enterprises seek to bolster their data security in an increasingly high-threat environment.
Businesses may also turn to multi-cloud solutions to address larger business goals: for example, some laws or regulations may require that a certain amount of data is stored in a given geographic region, which companies can accomplish by maintaining multiple clouds in different locations. Additionally, some cloud providers are better-suited than others for certain tasks, so enterprises may use one cloud for one task and another cloud for a different task, without having to compromise functionality on any front.
If you think that a multi-cloud solution may be right for your organization, follow these tips to make sure your implementation goes off without a hitch:
1. Think beyond your usual provider
Many enterprises already have established, comfortable relationships with one or more cloud service providers. However, when it comes to your multi-cloud strategy, it's a good idea to move beyond what's familiar and ensure that you're finding the cloud solutions that will truly work best for your needs. Enterprises should look into greater detail than just the name brand; a provider that isn't their usual partner may offer cloud services with more compelling features.
2. Analyze your in-house expertise
Your current IT team may not be equipped to keep your multi-cloud environment up and running, which is a problem that needs to be addressed quickly. For now, you might opt to train your team to have a general understanding of any multi-cloud environment that you may eventually roll out. But as your multi-cloud solution grows to encompass more clouds and different providers, it may be beneficial to train or hire specialists for each cloud or provider. Alternatively, organizations can partner with managed service providers to gain the expertise they need without having to onboard an entirely new IT team.
3. Organize your applications
Applications and data don't always run the same way in different cloud environments, which is important to consider as you prepare to move to a multi-cloud environment. It will be necessary to decide where to store which data, determine the cost of exporting data from the cloud, and familiarize yourself with the types of SLAs required. The best strategy will probably be to categorize various applications and data into groups to avoid having to perform in-depth evaluations each time you add a new app, avoiding rollout delays down the line.
4. Examine scalability and security
Your IT staff needs to be prepared for the upcoming changes in scalability and security, which means ensuring that your underlying IT infrastructure will be able to handle the upcoming changes. You may opt for manual processes that require duplicating networking and security across multiple clouds, or you could also look into multi-cloud management platforms like HPE's OneSphere to help automate these processes. Either way, it's vital to ensure that your multi-cloud network remains secure as you scale.
5. Regularly reevaluate
It's important to regularly return to your multi-cloud network strategy to ensure it still meets your business's changing demands. You should do so at least once a year, although every 6 months is ideal. As technology develops and your business goals and structure change, you will likely find that your strategy will need to change more often than you would expect.
The Importance of the Right Partner
At Turn-key Technologies, we have nearly three decades of experience helping companies from a wide variety of industries deploy cloud solutions. From designing and deploying cloud solutions to monitoring network usage at the device level to striking the right balance between network performance and network security, deploying multi-cloud networks represents a daunting challenge — one that requires substantial resources.
That's why more and more companies are partnering with managed services providers who can supplement or even perform the functions of their in-house IT team — at a fraction of the cost. Our award-winning technicians possess the skill-sets necessary to design, deploy, secure, and manage networks as powerful as they are flexible, making us the perfect partner for any company preparing to deploy multi-cloud solutions.