Subscribe
As the IoT Begins to Take Shape, Manufacturers Clash on Design Standards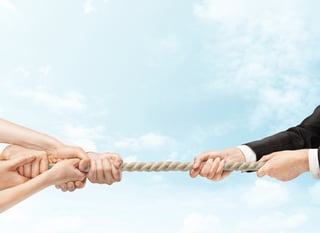 Internet of Things devices have the potential to revolutionize nearly every industry, but not before device manufacturers sort out some persistent issues.
In September 2016, SAP CEO Bill McDermott declared, "With billions of connected devices, we now have the potential to reshape society, the economy, and the environment."
This seemed like a bold statement at the time, yet as the Internet of Things (IoT) continues to mature and proliferate, it has never appeared truer.
According to Vodafone's IoT Barometer 2017/2018 report, the nearly nine billion Internet of Things devices currently in use are already delivering a robust return on investment. In fact, the average organization surveyed by Vodafone reported that IoT adoption delivered a 19% increase in revenue and a 16% decrease in operational costs.
The only obstacle preventing enterprises from diving head-first into IoT adoption is the fact that manufacturers of IoT devices have yet to form a consensus around a set of design standards. "In all my experience in IoT, this often comes up as issue number one: the machine integration/interoperability issue," explains Plat.One CEO John Bates. As enterprises purchase, install, and attempt to manage sprawling IoT networks comprised of tens of thousands of devices, this will only become a more pressing problem.
With that in mind, here are some ambiguities around IoT design that the industry has to resolve before these devices live up to McDermott's grand aspirations.
Operational Costs
As with any business decision, cost is at the forefront of everyone's mind when considering whether to invest in the IoT. These devices have immense potential in a wide variety of industries, but budgeting for IoT deployments continues to be a struggle. In addition to initial outlays for the devices and the man-hours required to install them, organizations must budget for substantial maintenance and management costs.
This is particularly true when it comes to power consumption. A single desktop computer that is consistently left idle over nights and weekends can increase an enterprise's annual energy bill by more than $100. Multiplied across thousands of IoT devices — many of which must remain on at all times — this level of energy consumption can decimate an enterprise's bottom line.
Battery-powered IoT devices reduce these costs to some extent, but insufficient battery life is already a persistent issue: "If a network is down, does the device continue to poll the network?" asks Keysight Technologies VP Kailash Narayanan. "If it does, it's draining the battery. These are things you have to consider."
Reliable Connectivity
Reliable network connectivity is another major problem that device manufacturers have yet to solve. In theory, IoT devices can communicate with the internet via either a wired or wireless connection, but in many deployment scenarios, the latter will be the only feasible option.
Encouragingly, IT experts have already begun to develop networking protocols that are specifically tailored to the needs of the IoT. For instance, low-power, long-range wide area networks (LoRaWAN) regulate dataflows to and from IoT devices using an adaptive data rate algorithm, facilitating incredibly precise network capacity management. Networking protocols like WiFi and Bluetooth offer significantly higher data transmission rates, but LoRaWAN is more energy-efficient and has far greater range — perfect for the IoT.
Durable (But Not Too Durable) Hardware
On a more fundamental level, IoT manufacturers must improve the overall quality of the devices they bring to market. Traditional enterprise electronics — computers, projectors, etc. — are by and large not designed to function outside of a stable office environment. And while plenty of IoT devices are expressly intended for office deployments, many others are meant to assist with operations in harsh or complex environments like oilfields and hospitals.
These devices must be able to function in extreme heat and/or cold and be impervious to structural vibrations (think: drilling equipment). Current solutions to this issue — like thick plastic or metal casings — often generate a great deal of radio frequency interference. What's more, as Narayanan highlights, "These devices have a tendency to be grouped with other devices, so you have to think about coexistence and how immune the devices are to interference from other devices, and how effective they are in being good citizens in the network and not putting out spurious signals."
Preparing for IoT Adoption
In truth, these are but a few of the most obvious concerns manufacturers must address before the IoT revolution can kick into high gear. Considerations like application/operating system compatibility and robust cybersecurity are just as important (if not more so).
In order to make sense of these myriad considerations, enterprises need an experienced IT and networking partner like Turn-key Technologies (TTI). With over two decades of experience and numerous industry certifications, TTI has the knowledge base to help any enterprise prepare for and achieve successful IoT implementation.