Subscribe
What CTOs Can Do to Get IT and OT on the Same Page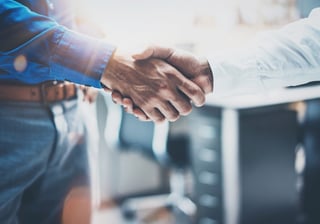 With the emergence of the Industrial Internet of Things comes increasing demand for collaboration between IT and OT, meaning convergence is on the horizon.
As network connectivity comes to the operational systems used to monitor, manage, and optimize industrial processes, the wall between IT (Information Technology) and OT (Operational Technology) is falling. The connected operational technologies that make up the Industrial Internet of Things (IIoT) don't simply rely on IT networks to function — they're increasingly part of the same interconnected systems.
Industrial control systems, valves, pumps, and sensors are no longer simply OT concerns — they're IT concerns, too. Likewise, OT professionals are now having to think about multi-cloud management, bandwidth allocation, and edge computing as the increasing complexity of supervisory control and data acquisition (SCADA) demands more and more support from IT.
The Case for IT/OT Convergence
Within industrial and enterprise organizations, there is an increasing recognition of the value in IT/OT convergence. Technological advancements in digital, data-driven OT and the birth of the Internet of Things (IoT) have driven a trend toward IT/OT convergence in industrial environments like water processing facilities, factories, and utilities. The linking of big data analytics and wireless networks with physical and industrial equipment has only just begun to take root. And the integration of networked software and complex physical machinery will only continue to advance.
Back in 2016, fewer than half of manufacturers reported that their IT and OT teams collaborated to upgrade legacy operations or enterprise systems. Only 8% said their IT and OT teams ever collaborated. IDC now predicts that by 2021, a whopping 90% of manufacturers will leverage real-time equipment and asset performance data to self-diagnose issues. Further evidence of the IT/OT convergence can be found in the rollout of comprehensive digital transformation (DX) initiatives that essentially treat IT and OT as the same thing: digital systems capable of vastly improving industrial processes. IDC predicts that by 2023, "50% of the spend on DX initiatives in manufacturing will come from dedicated digital transformation budgets, instead of traditional IT or LOB budgets."
As industrial operations start to require a higher degree of collaboration between IT and OT teams, it's up to decision-makers at the top to ensure the necessary alignment between CIOs, CTOs, and OT directors.
The Challenges of IT/OT Convergence
The meaningful convergence of IT and OT systems and teams requires clearing a number of hurdles. On the IT side, teams must make adjustments to account for an increased scale of impact — the effects of a security incident may differ greatly when they affect not only networks but also industrial systems. The possibility of a control system faltering or an electrical grid falling offline creates new risks for IT teams. At the same time, the physical nature of OT means that IT teams must evaluate the real physical risks of networked industrial system failures.
What's more, IT teams must rise to the challenge of upgrading legacy systems with which they may have no prior experience. Archaic operating systems running on industrial machines may not be easily changed — or, worse, custom configurations may not adhere to IT teams' security protocols.
Meanwhile, OT teams must face a new reality: the possibility of data breaches. While cyberattacks have traditionally been the responsibility of IT teams, OT teams must learn how to manage and protect systems subject to a growing number of attack vectors in order to guarantee the integrity and security of data created and stored on industrial devices.
Further, OT teams must grapple with the reality that productivity and quality control will be increasingly reliant on their IT counterparts. Handing off some degree of control over manufacturing processes is likely to incur some resistance. However, growing cybercriminal threats will demand close cooperation — especially given the potential for these threats to impact product quality and even put end users at risk.
Finally, of course, there's the challenge of merging two disparate cultures. IT and OT professionals come to the table with different backgrounds and skill sets as well as unique approaches to troubleshooting. Teams must master both the logistical and social landscapes of collaboration in order to thrive in the age of the industrial internet and the IoT.
Facilitating Effective IT/OT Collaboration
CTOs must implement effective strategies to make IT/OT convergence as seamless as possible. During the convergence process, it's vital to remember that IT and OT teams share the same topline priorities: maintaining control of systems, ensuring the effectiveness of operations, and keeping both employees and end users safe.
To facilitate this, industrial organizations should conduct a thorough network audit and system cleanup to ensure that all devices on both the traditional IT and OT sides are authenticated, secured through advanced encryption, and able to communicate effectively. Converged systems must be positioned for effective, efficient operations, and should protect data integrity at every turn.
Additionally, IT and OT teams must be prepared to meet halfway on their separate priorities. For example, while IT teams may be used to regular security patching, OT teams are expected to have accounted for all potential infrastructural vulnerabilities, slowdowns, and disruptions in advance. While IT teams can adjust for both bandwidth and throughput at the drop of a hat, OT teams have a relatively predetermined throughput.
Ultimately, all of these differences in operations and approaches require that IT and OT teams meet in the middle in order to ensure the security and effectiveness of all involved systems. Decision-makers at the top should set predetermined IT and OT roles, but also introduce cross-functional training for both teams. Setting shared goals and designing a well-planned convergence roadmap will be crucial.
Partnering Up for IT/OT Convergence
With IT/OT convergence comes new possibilities for network and industrial security. However, beyond security, meaningful collaboration between enterprise IT and OT teams will position organizations to gain operational advantages over their competition. The organizations that converge IT/OT effectively will propel their operations into the future.
But implementing an organizational change as large as this will require more than just network bandwidth — it will require human bandwidth, as well. And given how thinly spread both IT and OT teams tend to be, many organizations will have difficulty finding the time and the in-house expertise necessary to make convergence a priority. For this reason, it makes abundant sense to partner with an experienced managed services provider — one with the capacity and diverse skill-sets needed to make IT/OT convergence a reality.
At Turn-key Technologies (TTI), we have over thirty years of experience building cutting-edge networks designed to enable cross-functional collaboration within leading industrial organizations. From structured cabling and managed services to full network assessments and comprehensive wireless site surveys, TTI technicians understand how to identify your organization's needs and build solutions to meet them.
With countless industry certifications and an innovative team of network security experts, we can help position your organization for sustained success with networks designed for IT/OT collaboration.