A DEEP DIVE INTO SMART CAMERAS
Health and safety are important priorities for any business, but staying on top of them is often easier said than done. Fortunately, smart cameras offer a great way for organizations to meet their physical security needs.
In light of recent high-profile cybersecurity attacks, it's easy to forget about the other key security measures that help keep us safe — namely, less flashy but equally important physical security.
Physical security is a means of protecting spaces and the people within them. While many attacks on businesses occur online, others continue to occur in person. Physical security helps verify that only authorized individuals have access to sensitive spaces and assets. It also ensures that employees, customers, and other visitors are always protected. Further, physical security solutions like camera systems, lone worker systems, duress alarms, and paging systems combine technology and hardware to keep workers safe without interfering with their productivity.
Smart cameras have become an especially valuable physical security asset over the past few years. Going beyond simply recording the events they observe, smart cameras are shaking up industries, increasing both security and productivity. Organizations as wide-ranging as K-12 education, higher education, manufacturing, logistics and warehouses, government agencies, and healthcare practices can all benefit from a robust physical security plan that includes smart cameras.
DETERMINING AN ORGANIZATION'S PHYSICAL RISK LEVEL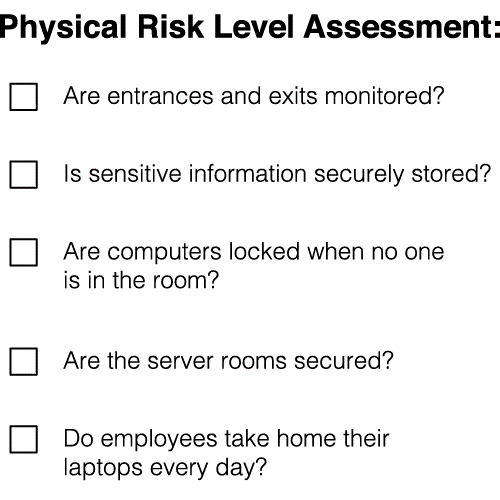 Before you begin investing in physical security systems like smart cameras, you first need to evaluate your physical risk level. That means identifying the biggest potential risks to your organization as well as any weaknesses within your existing security system. While you'll never be able to prevent every possible risk to your business, it's important that you have means of detection in place so you're able to identify and stop intrusions before they have a serious impact.
When it comes to assessing your organization's physical risk level, you should start by considering all your public entry points. The areas where people enter and exit your facility always present a physical security risk and should be monitored accordingly. Once inside your space, you need to consider how your sensitive information, documentation, and data is being stored. Are your computers locked down and kept secure when no one is in the office? Do you have server rooms that require additional protection? Do your employees have laptops that they take home every day? List out all the potential risks so you can better ensure your physical security investments address your top concerns.
COMMON PHYSICAL SECURITY CHALLENGES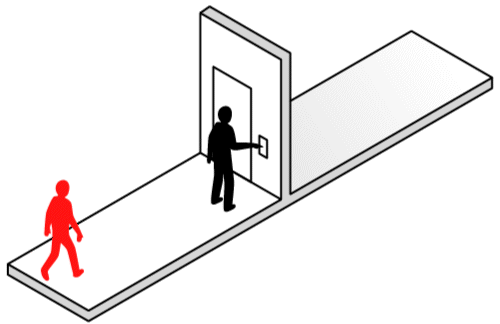 While every organization's physical security challenges are different, there are a number of common issues that any business should consider when creating their security plan — particularly when thinking about the use and placement of smart cameras. These include:
Tailgating:

Most organizations have some form of access control in place to ensure that only authorized personnel can enter the premises. Unfortunately, measures like swipe-card access points and locked doors are easily overcome by a determined attacker. Tailgating is one of the easiest ways to achieve this. Tailgating occurs when an unauthorized person follows an authorized person into a secure area. For example, when multiple people pass through a door, it's natural for only the first one to unlock it, creating a perfect opportunity for a bad actor to get in without detection or credentials.

Document Theft:

When sensitive documents are left lying around, they can easily become unaccounted for or fall into the wrong hands. These documents should always be securely stored to prevent theft.



Unaccounted Visitors:

If you don't know exactly who is in your workspace and when, it's impossible to maintain a high level of physical security. Unaccounted visitors — people who visit your space and aren't accounted for with a visitor's pass or some other form of identification — can pose a serious security threat. Not only do they have free access to your space, but if an incident does occur, you'll have no record of them being in your space at that time and no way of tying the incident to them.

Stolen Identification:

Access control systems are only effective if everyone is using their own identification to access a space. If people are going in and out of your space using someone else's identification (no matter whether they are doing so maliciously or not) the result is the same as if you had no access control in place whatsoever.
NEW PHYSICAL SECURITY CHALLENGES IN THE TIME OF COVID-19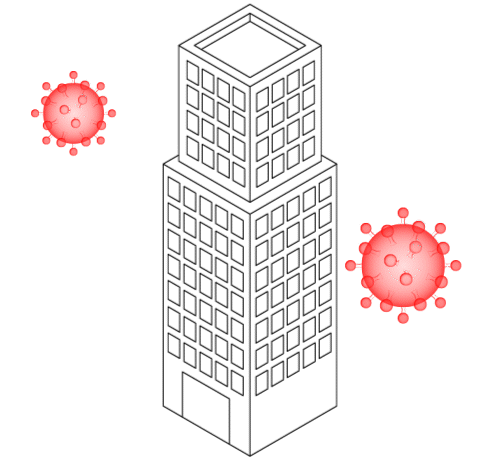 In addition to all these standard physical security challenges, the ongoing coronavirus pandemic has created new demands when it comes to physical security. A single positive COVID-19 case can have devastating, far-reaching consequences if proper action isn't taken to reduce the spread of the virus immediately.
Unfortunately, workspaces like office buildings, schools, and warehouses are prime places for a disease like this to spread. With so many people passing through each day (and with most of them passing through common entry points like lobbies, elevators, and security checkpoints), it's unsurprising that these spaces can encourage the spread of COVID. As people begin returning to school and work, organizations need to take concrete steps to ensure they are mitigating the risk of disease as much as possible.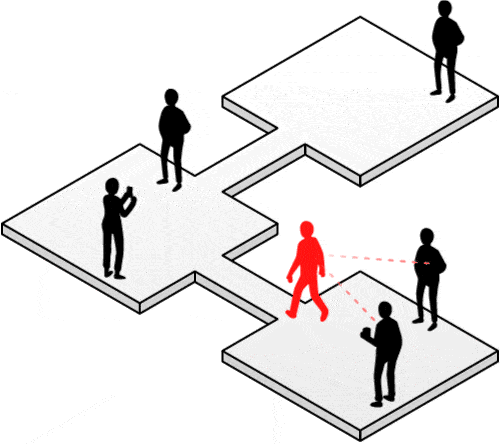 According to the Centers for Disease Control and Prevention (CDC), one of the best ways to reduce the spread of the coronavirus is through effective contact tracing. Contact tracing starts when a person tests positive for COVID-19. From there, it's time to start tracking down all of that person's contacts (anyone who might have been exposed to the virus through contact with the infected person) to alert them of their exposure and ask them to isolate or self-quarantine to make sure they don't spread the disease further.
Successful contact tracing depends entirely on fast identification of a person's contacts. This is especially true for COVID-19, as many carriers are entirely asymptomatic and may continue spreading the virus without realizing they have it. Even people who eventually develop symptoms may be asymptomatic (and contagious) for 48 to 72 hours before the symptoms present themselves.
In short, successful contact tracing requires having powerful technology that can help you quickly locate an infected person's path through a space and identify with whom they may have interacted while contagious.
THE BENEFITS OF SMART CAMERAS FOR GENERAL PHYSICAL SECURITY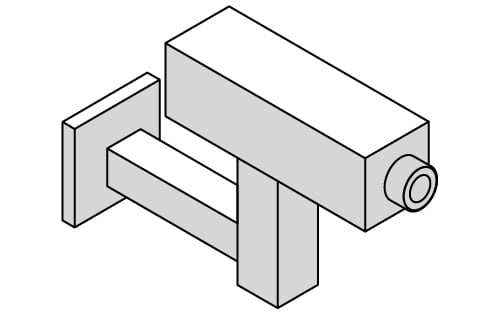 The best technology for tackling all of these physical security challenges — both those that organizations regularly have to contend with and those that are specific to the current moment — is the smart camera. Smart cameras go beyond simply capturing images — they also connect to the Internet over either WiFi or LTE and can work on many different operating systems. They typically come with their own dedicated processor that allows them to operate independently, as well.
Smart cameras that have built-in artificial intelligence (AI) capabilities present a variety of benefits when it comes to physical security. In fact, the surveillance and security sector has benefited from the advent of these cameras more than nearly any other industry. While cameras have always served as "digital eyes" when it comes to security, smart cameras also come with "digital brains."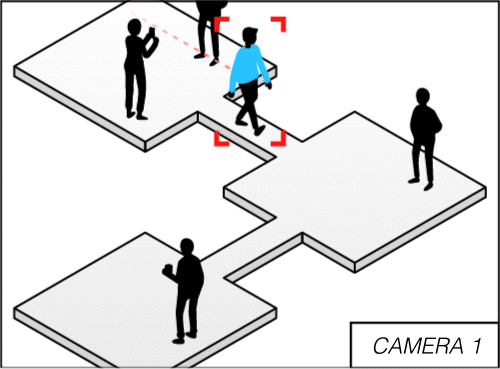 The significance of this change cannot be overstated. For example, imagine that a security breach has occurred and sensitive documents were stolen from a business. Instead of manually parsing through hours of footage to find the culprit, a smart camera can independently analyze the footage. If the cameras understand natural language queries, they can help users locate the relevant footage with descriptive words like "gray car" or "man with blue shirt."
Artificial intelligence means that smart cameras can tackle challenges like tailgating, unaccounted visitors, and more. They can help you detect intrusions as they occur or shortly afterwards and then track the full path of the intruder. Some cameras also include reporting features and can produce audit trails of the activity in your space. That means if you ever experience a physical security breach, you'll have a detailed record to help law enforcement. It also means you'll have all the information you need to make targeted physical security improvements to address the specific weaknesses exploited by the bad actor.
Of course, smart cameras are only one part of a larger physical security plan. In addition to surveillance, it's important to embrace access control to secure entries and keep unwanted visitors out. It's also critical that you educate employees about proper security measures including securing sensitive documents, not letting anyone else in after they open a door, making sure visitors are accounted for, and more. While smart cameras can be a powerful tool when it comes to increasing physical security, they can only do so much. It's key that those using the space consistently follow security best practices as well.
EMBRACING PHYSICAL SECURITY WITH AVIGILON CAMERAS

When it comes to selecting the best smart cameras to increase physical security, there's no better choice than those offered by Avigilon, a leader in the intelligent surveillance space. In addition to the smart cameras themselves, the Avigilon Control Center (ACC) video management software makes it easier than ever to protect your space from threats ranging from intruders to the coronavirus.
Avigilon offers multiple high-quality smart cameras as part of its H5A line. The cameras in the series offer AI-powered, next-generation video analytics and monitoring technology to ensure your site is monitored effectively around the clock. The cameras are designed to focus your attention on potentially critical events so you can get to the bottom of physical security threats as quickly as possible.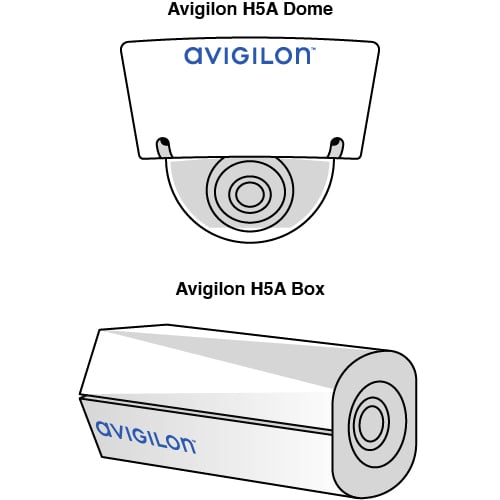 Two of the most popular cameras are quite similar when it comes to their smart capabilities, but they have some minor differences (like their shape) that can make them a better fit for certain spaces. The two options are:
Avigilon H5A Dome:

The H5A Dome is designed to ensure your space is monitored at all times. Its top features include content adaptive IR that allows more than 100 feet of lighting and imaging in low light settings, a wide dynamic range that makes it possible to capture details in both bright and dark areas, and HDSM SmartCodec technology that optimizes compression levels to minimize your storage needs.

Avigilon H5A Box:

Like the H5A Dome, the H5A Box is designed to offer unparalleled physical security. With this camera, you can use the automatic IR cut filter for better low light performance and you can access LightCatcher technology to receive better imaging in low light settings. Also, like the other Avigilon smart cameras, with the H5A Box you can remain ONVIF compliant and easily monitor cameras from the Avigilon Control Center.
In addition to the cameras, Avigilon offers a Video Archive. This storage solution helps your smart cameras reach their full potential with video storage that adapts to match your growing needs.
MEETING THE CHALLENGES OF COVID-19 WITH AVIGILON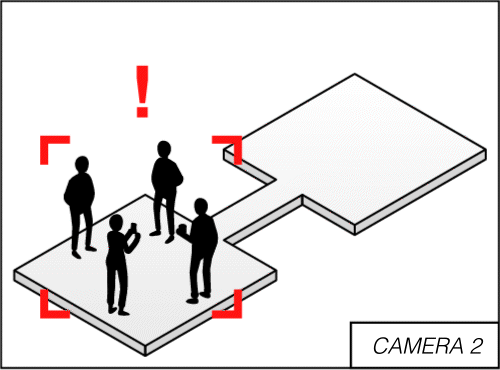 Nowadays, physical security needs have evolved beyond simply keeping bad actors out of a space. Protecting staff, students, or other visitors also means keeping them healthy. As a result, many organizations recognize that the most valuable features for any smart camera right now are those that support coronavirus prevention. Fortunately, Avigilon smart cameras have that covered. The H5A line of cameras includes:
Contact tracing technology:

The Avigilon Control Center's (ACC's) Identity Search and Appearance Search feature lets you easily search through your camera system to identify the specific path taken by an infected individual as soon as you get news of a positive COVID-19 test. That way, you can identify areas to clean right away as well as which other individuals were in the same spaces during a certain time period when they may have been infected. From there, all you have to do is contact the exposed individuals and ask them to self-isolate before they can spread the virus further.



Occupancy counting technology:

Avigilon's smart cameras and ACC software automatically count the number of people entering and exiting a space. That information can help you determine which areas see the most traffic so you can create alternate routes and develop cleaning schedules that reflect the heightened risks.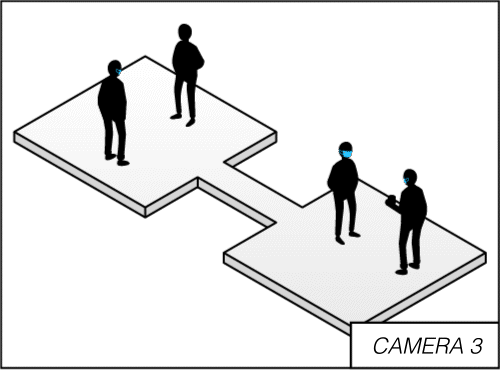 Social distancing technology:

ACC uses edge-based intelligence on H5A cameras to continuously monitor social distancing efforts within your space. You can easily run reports of all the detected social distancing violations to determine when and where they occur and thus initiate targeted corrective measures.

Face mask detection technology:

Avigilon's advanced video analytics can automatically detect individuals not wearing protective face masks. You can then run reports to better understand compliance levels and determine how to effectively address the issue before it leads to further spread of the virus.
STAY SECURE WITH SMART CAMERAS FROM TTI
The best way to protect employees, students, and others from physical security dangers ranging from tailgating to the coronavirus is through the use of properly installed smart cameras. Not only can they use artificial intelligence to identify and track the path of anyone who enters your space (whether they are authorized to be there or not), they can also help ensure everyone in your space is following proper COVID-19 precautions including social distancing, wearing face masks, and more.
Although smart cameras present a massive opportunity when it comes to physical security, successfully adding them to your workspace creates several challenges. In fact, if the cameras aren't installed properly, they can present a serious security risk. If you want to properly leverage smart camera technology to heighten your physical security without risking your cybersecurity, you can't simply hire a camera vendor or a traditional security company. Instead, you need to turn to a dedicated IT partner with decades of experience securing spaces of all shapes and sizes. You need a partner like Turn-key Technologies, Inc. (TTI).
With nearly 30 years of experience, TTI has the requisite IT expertise to help you bring smart cameras into your space both safely and securely. Even better, as an Avigilon partner, TTI can bring the latest and greatest of next-generation, AI-powered smart cameras to your organization so you can keep your people safe and healthy. Contact us today to learn how TTI can help you elevate your physical security with the help of the best smart cameras on the market.