Spring Digital Story - What's New in Networking
Staying on top of the newest advancements and trends in networking is a must for organizations of all types and sizes. However, since networking is constantly evolving, that's often easier said than done. Here are some of the latest updates in networking you need to know about.
Proper networking is essential for every organization. That means you can't just set everything up once and step away, hoping the network will keep performing optimally in your absence. Not only do you have to regularly monitor your network to ensure that your connections are safe and properly functioning, but you also need to stay up to date on the latest updates in networking to take your network from merely serviceable to firing on all cylinders.
The fact is, your network is at your organization's core, and its functionality — or lack thereof — can significantly affect every aspect of your business. Subpar network performance could mean slow response times, difficulty reaching the cloud, lost time, employee frustration, and worse, so having quality networking is non-negotiable.
However, there are a lot of new network advancements each year, so staying on top of those updates can be tricky. But don't worry! In this digital story, we'll take a deeper look at what's new in networking, from WiFi 6E to the rise in as-a-service offerings, so you know exactly what's out there and the impact these advancements can have on your network.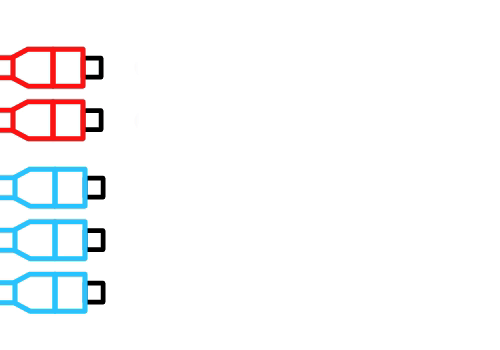 WiFi 6E, the newest iteration of WiFi, is here, and it's already making waves. Countless companies are embracing WiFi 6E thanks to its incredible speed and reliability compared to older iterations of WiFi. It's becoming increasingly invaluable in today's digital age.
Not only does WiFi 6E offer more robust cybersecurity features than ever before — features that are compatible with smart devices — but it also has the 6-gigahertz (GHz) band. This unlicensed spectrum provides more than twice as much bandwidth as the 5-GHz band and can serve WiFi 6E-enabled devices, clearing up congestion in the 2.4-GHz and 5-GHz bands. That means faster speeds for all your devices, not just WiFi 6E-enabled ones. With WiFi 6E, networks can provide higher performance, improved data throughput, reduced latency, and better multi-user data management to more devices than ever.
And the great news is that WiFi 6E is prepared to support your wireless needs both now and into the future. Since WiFi 6E's wider channels may be up to 160 MHz wide, this iteration of WiFi is more than capable of supporting high-definition video streaming and the latest advancements in virtual reality. Plus, the new frequency band eliminates the overcrowding and interference from microwaves commonly seen on the 2.4-GHz and 5-GHz bands. It can also support many IoT devices without experiencing network congestion and connectivity problems.
Just note that WiFi 6E is only as good as your infrastructure. If you don't prepare your network infrastructure properly, you won't be able to experience the many benefits of WiFi 6E. You need to think beyond endpoint compatibility and examine your switching, cabling, and more to take full advantage of everything WiFi 6E has to offer.
Our world is becoming increasingly digital, meaning our networks are under more pressure than ever before. Between the increased reliance on wireless access, the ubiquity of bandwidth-intensive workloads and devices, and the rising popularity of cloud-based services, it's all too easy for a network to fall short. Fortunately, there are plenty of available upgrades to bring a network up to speed and ensure it's ready to support the increased traffic and high-performance demands of today. Adopting HPE Smart Rate switches is an easy way to improve your network.
HPE Smart Rate switches can support the industry standard IEEE 802.3bt power and provide up to 60W of PoE. Most Smart Rate multi-gig switch ports support speeds of 2.5GbE and 5GbE, but some switches can support 100Mbps, 1GbE, and 10GbE. This translates to additional bandwidth, which can be invaluable in the face of increasing demand and performance expectations. Plus, since Smart Rate switching ports are auto-negotiating, the Ethernet link can automatically settle into the highest possible speed on your cable configuration.
Regardless of which HPE Smart Rate switch you choose, you'll be able to solve traffic bottlenecks and achieve higher-speed Ethernet on your existing cabling infrastructure. In fact, HPE Smart Rate switches can deliver 2.5 to 10 times more bandwidth capacity — all without the expense and hassle of performing a major cable upgrade to your existing twisted-pair cabling. Additionally, you'll be quite secure, as Smart Rate ports on Aruba switches support the industry standard 802.1AE MACsec layer encryption between twisted pair links.
All in all, Smart Rate switches deliver performance, bandwidth, and security, making them invaluable investments in today's device-heavy and IOT-packed environment and the future.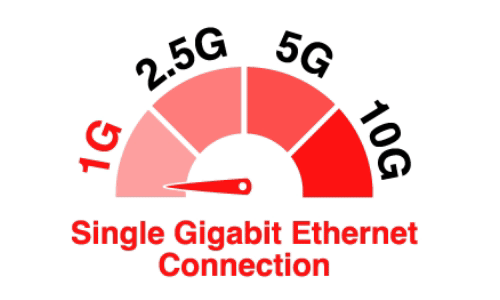 While a single Gigabit Ethernet connection that delivers 1G transfers is enough for some people, it won't cut it when it comes to spaces where many devices need to share a single connection, whether that space is a house with a large family, a classroom, or an office. With so many WiFi-enabled devices struggling to achieve faster data rates, bottlenecks are bound to occur from closet to closet, closet to main distribution frame, or switch to access point.
Fast network speeds are more necessary than ever these days, and multigigabit Ethernet connections are making it easier to meet those needs. Multigig simply refers to links that offer connection speeds higher than one gigabit. Before the release of the NBASE-T 802.3bz standard in 2016, 10G ethernet networks often required Cat6a cables and 10GBASE-T switches. However, Cat5e and Cat6 cables, the more widely used cables at the time, could only run 1G networks, and those early 10GBASE-T switches didn't support intermediate speeds. As a result, there was no in-between option. People needed to put up with bottlenecks or invest in more expensive 10-gigabit-per-second ethernet equipment, such as cables and ports.
Luckily, that's not the case these days. The IEEE 802.3bz standard introduced an intermediate option with 2.5Gbps and 5Gbps ethernet. Multigig ports are backward compatible and can support speeds between 1 Gbps to 10 Gbps. Even just moving up to 2.5Gbps from 1Gbps can make a significant difference in network speeds! Plus, there's no need to exchange your existing Cat5e or Cat6 cabling for Cat6a, a process that is both expensive and disruptive, as 802.3bz will enable you to run 2.5G, 5G, and even 10G on your current cabling.
It's also worth noting that multigig connections will allow you to take advantage of high-speed WiFi access points, security cameras, and everything IoT devices offer without investing in new cabling. In short, with multigig connections, you can save time and money.
Traditional switches and centralized architectures come with complicated operations and high costs, but Pensando's distributed switching architecture is changing how we handle cybersecurity and networks. Pensando lets you adopt decentralized architectures and put firewalls at the network edge.
Not only can Pensando switches optimize network bandwidth and performance, reduce chokepoints, and improve cybersecurity, but they can also minimize downtime, simplify operations, and limit appliance sprawl. This new evolution of switching architecture is already disrupting the market, as Pensado is IoT-, AI-, and 5G-capable, and the Aruba CX 10000 Series Switch allows for distributed services architecture in a variety of environments.
While traditional switches and centralized architecture often mean dealing with traffic bottlenecks and require purchasing expensive hardware, the Aruba XC 10000 Pensando Switch is different. With this switch, you can distribute your networking and security services at the network access layer edge rather than a centralized policy enforcement point, meaning the days of hair-pinning and tromboning traffic are over.
Pensando lets everything happen where the applications run and workloads are processed. It's faster, cheaper, and simpler — and you'll experience improved network bandwidth and performance. Plus, you'll gain additional visibility and scalability with the Aruba CX 10000 switch — and management will be much easier.
Using Pensando and a distributed network architecture can also improve security. After all, the Aruba CX 10000 Series Switch can inspect and protect east-west application traffic as well as distribute encryption, firewalling, and telemetry services at the edge. With so many bad actors out to steal sensitive data, this kind of improvement is invaluable.
HYPER-CONVERGED AND HYPER-CONVERGED STORAGE

Hyper-converged infrastructure is here, and it offers plenty of benefits compared to converged infrastructure. A converged system bundles the hardware and software required to complete an IT task and offers limited flexibility and expensive scalability compared to hyper-converged systems. As a software-centric approach to IT infrastructure design, hyper-converged infrastructures tightly integrate storage, networking, and computational resources, enabling users to manage their infrastructure easily. A hyper-converged infrastructure also simplifies scaling when the time comes, as onboarding and configuring new assets will be easier than ever in a hyper-converged environment.
Hyper-converged storage, a facet of hyper-converged infrastructure, is also taking off. Instead of having dedicated hardware for storage, you'll have virtualized pools of storage. The result is increased flexibility, reduced IT operational expenses, easier resource management, and storage cost savings. Hyper-converged storage is particularly well-suited when data backup, recovery, and protection are a top priority, when branch offices require server resources on site, or when public, private, or hybrid cloud infrastructures are in use.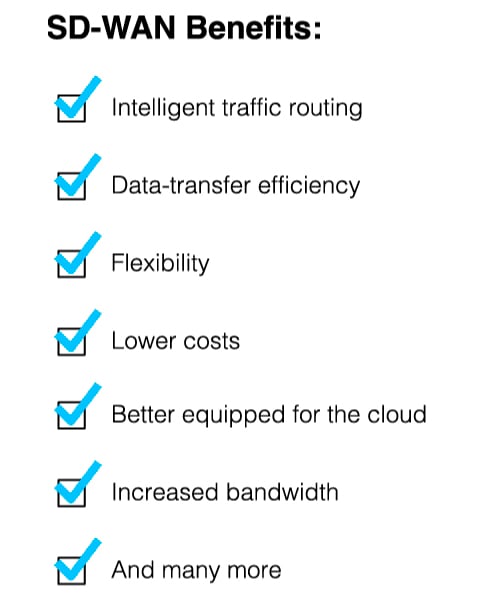 While wide-area networks (WAN) were the go-to solution for seamless connectivity back when enterprise data centers hosted all our applications, they often fall short these days. Why? Because traditional WANs just weren't designed for the cloud and they involve a lot of backhauling, leading to latency and poor application performance when handling traffic destined for the cloud.
However, SD-WAN (software-defined wide area network) is here and ready to help you maximize your cloud investments. In a nutshell, SD-WAN is a virtual WAN architecture capable of offering the performance, reliability, and security that modern organizations require. It allows businesses to use the best transport method for each job and offers secure user-application connectivity.
SD-WAN offers plenty of benefits. For one, it can more intelligently route traffic across the WAN, increasing data-transfer efficiency. As a result of policy-based routing, SD-WAN provides more flexibility and agility than WAN. Using SD-WAN can also lower your costs, as you can buy cheaper broadband circuits or rely on 5G connections whenever bandwidth demand increases instead of buying new MPLS circuits. It's also better equipped for the cloud, as there's no need to backhaul traffic to a central data center. Instead, traffic can be sent to a cloud security enforcement point or directly to the cloud.
Other key benefits of SD-WAN include increased:
Increased bandwidth.

More efficient networking.

Fewer single points of failure.

Higher quality transfers.

Overall improved performance.

A simplified infrastructure.

Increased visibility.
Shifting to SD-WAN from WAN also makes enforcing security policies easier. Not only do SD-WANs offer organizations agility and flexibility that enables them to respond to threats quickly but they also enable micro-segmentation and traffic encryption.

Networks are under a lot of strain these days — and demand is only growing. High-speed, reliable internet is essential for every organization, so it's no wonder that many are scrambling to upgrade their switches and WiFi. However, those upgrades won't do much good if your cabling isn't set up to handle your newest tech.
Structured cabling can make all the difference when it comes to your network reliability, especially in today's world of IoT devices and WiFi 6E. Older cables simply aren't cut out to support today's bandwidth intensive networks, but newer structured cabling systems provide more bandwidth than older cables. They offer better internet performance and faster data transfers, which can translate into increased productivity and happier workers and customers. Structured cabling systems are also incredibly adaptable and scalable, meaning you can more easily go with the flow as your business expands or WiFi evolves.
And those aren't the only benefits. Using structured cabling can also simplify troubleshooting. Instead of sorting through a tangle of cables when there's an issue, you can quickly identify and fix the problematic wire, saving you lots of time and money. Plus, structured cabling can eliminate single points of failure and reduce electrical interference.
Investing in structured cabling can fortify your physical IT infrastructure and future-proof your network. Sure, you may have to spend some money now, but investing in structured cabling is one of the best things you can do for your organization in the long run. You'll achieve a higher ROI for other new technologies, such as WiFi 6E, be better equipped to handle future network growth, and experience less downtime.
THE GROWING POPULARITY OF MANAGED SERVICES/ANYTHING-AS-A-SERVICE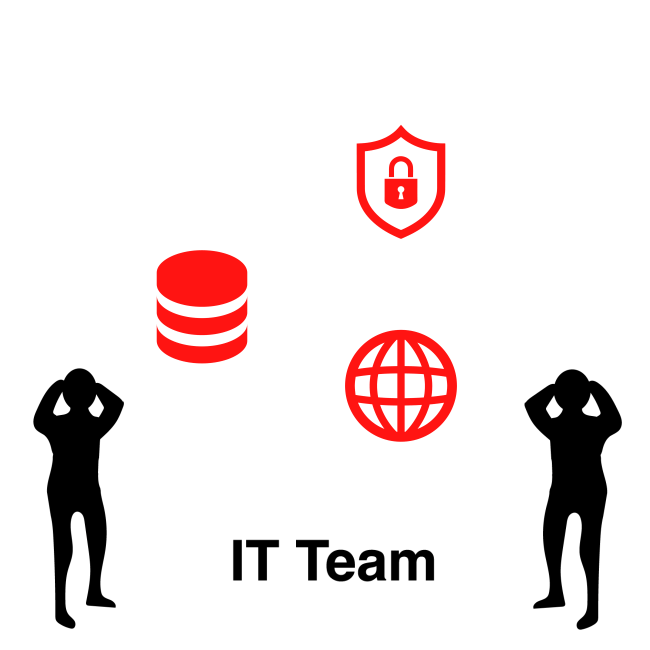 The latest developments in the networking space don't just have to do with cables, switches, and routers. One of the biggest areas of growth in networking is the rise of managed services as a means of dealing with the ever-increasing pressure facing IT teams. By outsourcing day-to-day network responsibilities and tasks to a third-party managed services provider (MSP), you can navigate the ongoing labor and skills shortages without needing to hire and train your own internal employees — a process that is both expensive and time-consuming — eliminate stress around compliance and auditing, and scale your network with ease when the time comes.
Plus, turning to an MSP for assistance can take the pressure off your shoulders and help you cut costs. Not only will you be able to rely on your MSP to provide trained IT employees who are experts in all things networking when needed, but you can also shift from CapEx to OpEx. This will allow you to know your IT spending ahead of time for each month, meaning you'll be able to make more informed financial decisions and remain more stable throughout the year.
Subscribing to managed services is also an excellent way to ensure your network remains in tip-top shape. After all, your MSP will monitor your network and systems. So you can say goodbye to the break/fix approach and say hello to the preventative approach. Your MSP will be able to catch and resolve many problems before they turn into bigger ones, meaning less downtime, fewer equipment malfunctions, increased efficiency, and more time for your in-house team to focus on more important tasks. Your MSP will even recommend ways to optimize your network, let you know when to upgrade, and help you access and install any new technology — all without breaking the bank.
GET THE MOST OUT OF YOUR NETWORK WITH TTI'S HELP
When it comes to networking, one thing is sure: there's always something new to discover. Between hyper-converged infrastructures, Pensando's distributed switching architecture, WiFi 6E, and more, just keeping up with the latest in networking can often feel overwhelming, much less getting the most out of these new technologies. If you want to take advantage of what's new in networking, both today and into the future, Turn-key Technologies, Inc. (TTI) has you covered!
At TTI, we have over 30 years of experience helping organizations of all types and sizes create better networks, but that doesn't mean we're stuck in the past. We're always up-to-date with the latest networking technologies and we can do everything from advising on which solutions will best benefit your organization to building, installing, and managing a custom network. With TTI on your side, you can always take full advantage of what's new in networking.
Contact our team of professionals today to see what we can do for your network!